Grande Ritz Palm – Brindley Beach #EP899 – Waterfront Carolina Dunes, Duck, NC – On the Outer Banks
All-Inclusive Event and Luxury Vacation Home with sandy BEACH
NOW SLEEPS 26! 7 Kings, 4 Queens and 2 Doubles
Over 11,000 sq. ft. of LUXURIOUS living space and unquestionably the most elegant, premiere home on the Outer Banks. This Waterfront Estate has it all! Gorgeous water views of the and a Private Sandy Beach lined with Palm Trees and 300 feet of Pier. Dramatic Arbor and Elevated Walkway with Bridge surrounds Lush Tropical Outdoor Living Areas. Accommodating up to 100 guests, this home is perfect for your luxury vacation, wedding, family reunion or celebration.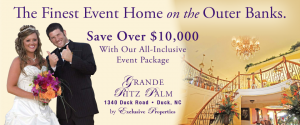 THIS LUXURIOUS ESTATE INCLUDES EVERYTHING YOU'LL NEED FOR YOUR WEDDING, FAMILY REUNION OR CELEBRATION.
Available May through October. Please call for availability.
Plan The Fairytale Wedding Of Your Dreams With This All-Inclusive Event Home! Live In Luxury! If you are interested in renting this home, please email us at exclusiveobxhomes@gmail.com.
Friday to Friday rental.
Save over $10,000 in
event rental fees!
Includes All-Inclusive Event Package –
No Additional Event Fee Charges
(Real Estate Companies Charge Up To $2,500 For Event Fee)
Our all-inclusive package saves you valuable time and money on your Outer Banks Wedding. The cost to rent tables, chairs, table linens, place settings, professional lighting, cleaning service after the event and set-up / break down / delivery would cost you over $8,000 from area vendors. Most real estate companies charge a typical event fee up to$2,500. Wedding couples save over $10,000 with our All-Inclusive Event Package. To view more details, please click on our All- Inclusive tab below.
In addition, The Grande Ritz Palm provides access to our property assistants, who are on call to assist you and your guests all week long. The Grande Ritz Palm has their very own 20+ person team that assists with the maintenance and cleaning for this home, in addition to the Brindley Beach Vacations staff.
The All-Inclusive Event Package is a great value and provides a worry-free wedding day.
Now taking reservations for 2020!!
Feature Video
Fri. to Fri. Rental
For all Rental Inquiries, please call Stephanie at 252-441-0811 with any questions.
Call Exclusive Properties Today!
Now Taking Reservations For 2020! 252-441-0811
Best in Class
Voted the "Official Best Of Coastal Luxury Home Rentals in North Carolina"
Location & Map
WATERFRONT CAROLINA DUNES, DUCK, NC – ON THE OUTER BANKS