UNQUESTIONABLY ONE OF THE MOST LUXURIOUS ESTATE HOMES ON THE EASTERN COAST.
SLEEPS 26!
Exclusive Properties by Lane, Five Star, Five Diamond. 11,000 square feet of luxurious waterfront living space! Only a 4 minute walk to the ocean access, or the golf cart is available.
The Lanes invite you to experience a one-of-a-kind vacation with family and friends in their luxury estate, inspired by the Trump Mar-a-Lago. Upon your arrival at 4 P.M., their personal greeter, will show you how to work the state –of- the- art electronics and give a guided tour throughout the estate. This fabulous waterfront estate on the Currituck Sound features approximately 11,000 sq ft of luxurious living space, is in Duck Village, and has every amenity you and your family have come to expect from the Lanes and many more. Your family and friends will always cherish your once-in-a-lifetime vacation week in the this palatial estate, featuring master suites with private baths, with an additional private suite with kitchenette and private bath, an exquisite great room, regal dining rooms with stunning waterfront sunsets, library, theater room, recreation room, gentleman's sports bar and more! Experience the unforgettable panoramic waterfront sunset views with 300 feet of waterfront pier and gazebo, and a winding walkway with arbor and beautiful sandy beach. Rich in detail, with Spanish tile roofing, cast stone balusters, stone decking throughout, stone columns with Corinthian capitals, lavish old world finishes and furnishings, custom Italian marble throughout, custom made mosaic inlays, unsurpassed exceptional architectural detail, original hand-painted murals and trump l'oeil, original oil paintings, scrolled iron balusters and state-of-the-art electronics throughout the interior and exterior.
Your Dream Vacation begins as you enter this Extraordinary Signature Lane Estate Home through the Custom Stone and Wrought Iron Gates. The Entire Estate is filled with lush tropical landscaping. An Elegant Four Tier Stone Fountain creates the center piece for the Estate. The Spanish Tile Roof and Ancient Stone Exterior only hint at the beautiful interior finishes.
Entering through the hand-carved solid Honduran Mahogany Wood Double Doors, you are greeted with a Dual Winding Staircase that is perfect for a Fairytale Wedding descent, Italian Marble Flooring, Exotic Bamboo Cane Treads, and Bronze and Gold Balusters. Renowned John Richard Lighting and Hand-painted Columns and Arches at all entryways guide you from room to room. You'll be stunned by the Gorgeous Custom touches and finishes to include Marble Flooring with Custom made mosaic inlays in the Kitchen, Breakfast Room, Dining Room, Great Room, Bathrooms, Sports Bar and Rec Room; the Imported Bamboo Flooring in the Library, the Hand-painted Murals, the Custom Archways and Corinthian Columns, Custom Cabinetry, Solid Wood 18-panel Doors, Wall-mounted Touch Screen Electronic Controls, Stone Balustrades, Tray, Barrel, Dome and Handcrafted Coffered Ceilings, Stained Oak raised panel Wainscoting with three piece chair rail, Exotic Stone Countertops, Beautiful Expansive floor to ceiling Windows with exceptional detail, Priceless Hand-painted Mural throughout the Glass Elevator shaft, Four Fireplaces; two with Old World Stone Surrounds, two see-through with Marble Finishes, Onyx Flooring, Interior faux block walls with Old World Finish.
Three of the Lavish Master Suites have Private Sitting Areas partitioned by Elaborate Hand Painted Arches and Columns to include Tray Ceilings with Murals and Deck Access. Beds, sleeping 26, include 7 Kings, 4 Queens and 2 Doubles with Simmons Beauty Rest Pillow top Mattresses, Down Gusseted Pillows, Down Blanket and 3-Sheet Bedding. High end furnishings by Ambella, Royal Patina; Custom Luxury Handmade Silk bedding by renowned Ruby Collection, John Richard; Glass Block Showers Jacuzzi Tubs, See through Fireplaces, Full Body massage Steam Showers and Split-face Tumbled Marble.
The Lanes have spared no expense in bringing you the ultimate in today's audio/video technology. When you stay at the Grande Ritz Palm, you will enjoy the very best in high definition images on LCD TVs, Plasma TVs, and our jaw dropping 119 Projection Screen. Music is available throughout the entire house and exterior, powered by Russound to include Uno and Abus Keypads with six different sources for music, individual volume control and selection ranging from XM satellite, CD Changer, Karaoke, FM Tuner, Ipod; paging via telephone is included to accommodate each interior room and exterior living space. Main masters include 42″ plasmas with surround sound and are controlled via pronto customized touch screens.
The Theater includes state-of-the-art custom programmed wall touch screens, lutron custom lighting controls, touch screen prontos, fiber optic twinkling star field tray ceilings, custom Crafted Cabinetry, Berkline Oversized Theatre Chairs, 119″ projection screen , iPod input, Karaoke and more!
The Gentleman's Sports Bar displays meticulous attention to detail; featuring stained hand Coffered Ceiling Trump L'oeil Dome; Electronics include in-wall Touch Screens featuring Plasma viewing on four 25″ + screen with options to view same program on each or different programs at the same time. Options include internet, karaoke using cordless microphones, DVD, CD, XM Radio, HD cable, Security Viewing in Color of four areas at once or shown separately. Sports Bar Kitchenette features a raised bar, barstools by Ambella, Stainless Steel appliances such as refrigerator, Ice Maker, dishwasher, built in microwave and Wine Captain. Furnishings include a dark Mahogany Billiard Table with Ball and Claw Legs, Persian Rug, Game table, Pub Table, Highland house Custom Leather chairs.
The Recreation Room has features similar to the features in the Sports Bar; In-wall Touch Screens, Billiard Table, Game table, Pub tables, Foosball Table, and kitchenette with wet bar, refrigerator, Ice Maker, Dishwasher, and built in microwave.
The Library is richly appointed with detailed architectural craftsmanship: Touch Screens, Stone Gas Fireplace, Built in 42″ Plasma with Surround Sound, Desk areas finished with Natural Onyx, High Speed Internet.
Elegant Great Room features high end designer sofas by Highland House; a name synonymous with fine, classic upholstery, renowned for impeccable tailoring, unique antique inspired designs and distinctive old world finishes. Details include signature custom faux painted arches, columns, Corinthian capitals and pedestals finished with hand painted murals; ledges filled with sago ferns; Original oil paintings with elaborate baroque framing; 50″+ built in plasma featuring surround sound and in wall custom programmed touch screen and/or pronto touch screen include choice of internet, karaoke, security cameras, CD, XM satellite, DVD, HD cable, favorite.
Grand Dining and Gourmet Kitchen includes Marble, Travertine ,Signature Custom Mosaic Inlays; Persian rugs; Venicia Dining tables and chairs with hand carved legs and posts, offer European grace on a grand scale; chairs and bar stools are custom upholstered with the finest upholstery; Weather Station; gorgeous cabinetry includes fluted, beaded and rope trim accents, rosettes, grape corbels, acanthus overlays, Romanesque crown molding, raised, arched panels, custom crafted faux painted arched panels, mullion glass doors, plywood, dovetail drawers, solid Marble, Porcelain under mount sinks imported from Italy; appliances include two side by side refrigerators with water and ice dispensers, two cook tops(one Viking Gas), two dishwashers, icemaker, double ovens, built-in microwave, warming drawer.
Garages are complete with HVAC, painted drywall, trim, painted flooring, ceiling fans, wall mounted LCD, security, Uno keypads, ping-pong. Golf cart is also, available.
The Lush Outdoor Living Area Features a Custom Designed Infinity Pool (44 x 22) with Built-in Hot Tub and Swim-up Bar, Fiber Optic Lights, complete with Columns, Flower-filled Urns, Fountains are finished with Travertine and Marble Complimented by an Exterior Dual Winding Stone Staircase and custom Built Stone Fountain. Signature Lane Pool House with Sauna, Wet Bar includes Commercial Ice Maker and refrigerator, Full Bathroom, Cast Stone Sun Deck, Large Gas Grill, and Stone Gas Fireplace with built in TV above allows for impressive outdoor entertaining and relaxation.
Land your Sailboat, Wave Runner, Kayak, Parasail or just enjoy the sun on your very own Private, Sandy Beach lined with palm trees. Take a leisurely stroll to the Waterfront along a Winding Walkway through Lush Tropical Landscaping gracefully adorned with Accent Lighting. Gather at the Gazebo to enjoy the view, find romance, and create some very special memories. It's awesome during the day and unforgettable at night. (Watercraft are not included in rental amenities, if any appear in pics below watercraft belongs to a guest)
Personal Greeting/On-Call 
The Lane family, Bill Kim and Stephanie, continue to maintain their properties to the highest standards, with their own personal team of 20+ team members.

Lane Family/Exclusive Properties Personal Property Managers will greet guests at

4 pm

 and walk them through-out the house, pool house and property, to ensure guests satisfaction and knowledge of operation,  for all electronics, amenities, etc.

They are also On-Call for guests throughout each week.

4 PM CHECK IN on Fridays, this home does not allow early check-in due to extensive services that occur each change-over day.
Lane Home White Glove Cleaning Service
NO PETS, NO SMOKING.
Fireplaces are available from November 1st – April 30th.
Please note: Consistent air temperature of 60°, or higher, is necessary to heat the pool.
Multiple beach accesses throughout subdivision. Four minute walk to closest beach access.
If this house is not available for the week you are looking for, check out this owners other home in our program with similar features named Grande Ritz Paradise, EP204
Showings of the home can be scheduled for any Friday changeover day from 3:00- 3:30 P.M. May  – October of the rental season.
Call today for availability! Reserve and confirm your week now, a signed lease and advance payment of $3000 will be due within 5 days of booking. Call for details!
2018 Specials
9/28- 10/5 $13,900 now $12,900
2019 Rates- Now Booking!

5/3/19-5/10 $14,900 – Booked
5/10/19-5/17/19 $14,900
5/17/19-5/24/19 $14,900
5/24/19- 5/31/19 $14,900- Booked
5/31/19-6/7/19 $16,900
6/7/19-6/14/19 $16,900- Booked
6/14/19- 6/21/19 $16,900- Booked
6/21/19- 6/28/19 $16,900- Booked
6/28/19- 7/5/19 $18,900- Booked
7/5/19-7/12/19 $18,900
7/12/19-7/19/19 $18,900
7/19/19- 7/26/19 $18,900
7/26/19- 8/2/19 $18,900
8/2/19- 8/9/19 $18,900
8/9/19- 8/16/19 $18,900
8/16/19- 8/23/19 $18,900
8/23/19- 8/30/19 $18,900
8/30/19- 9/6/19 $15,900
9/6/19- 9/13/19 $14,900
9/13/19- 9/20/19 $14,900
9/20/19- 9/27/19 $14,900
9/27/19- 10/2/19 $14,900
10/4/19- 10/11/19 $14,900
10/11-/19- 10/18/19 $14,900

CALL STEPHANIE TO INQUIRE FOR 2019 NOW! 252-441-0811
OR EMAIL AT EXCLUSIVEOBXHOMES@GMAIL.COM
1340 Duck Road
Carolina Dunes
Duck, North Carolina
On the beautiful Outer Banks!

Grande Ritz Palm – Brindley Beach #EP899 – Waterfront Carolina Dunes, Duck, NC – On the Outer Banks
All-Inclusive Event and Luxury Vacation Home with sandy BEACH
NOW SLEEPS 26! 7 Kings, 4 Queens and 2 Doubles
Over 11,000 sq. ft. of LUXURIOUS living space and unquestionably the most elegant, premiere home on the Outer Banks. This Waterfront Estate has it all! Gorgeous water views of the and a Private Sandy Beach lined with Palm Trees and 300 feet of Pier. Dramatic Arbor and Elevated Walkway with Bridge surrounds Lush Tropical Outdoor Living Areas. Accommodating up to 150 guests, this home is perfect for your luxury vacation, wedding, family reunion or celebration.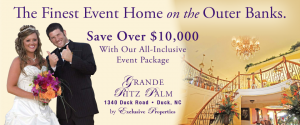 THIS LUXURIOUS ESTATE INCLUDES EVERYTHING YOU'LL NEED FOR YOUR WEDDING, FAMILY REUNION OR CELEBRATION.
Available May through October. Please call for availability.
Plan The Fairytale Wedding Of Your Dreams With This All-Inclusive Event Home! Live In Luxury! If you are interested in renting this home, please email us at exclusiveobxhomes@gmail.com.
Friday to Friday rental.
Save over $10,000 in
event rental fees!
Includes All-Inclusive Event Package –
No Additional Event Fee Charges
(Real Estate Companies Charge Up To $2,500 For Event Fee)
Our all-inclusive package saves you valuable time and money on your Outer Banks Wedding. The cost to rent tables, chairs, table linens, place settings, professional lighting, cleaning service after the event and set-up / break down / delivery would cost you over $8,000 from area vendors. Most real estate companies charge a typical event fee up to$2,500. Wedding couples save over $10,000 with our All-Inclusive Event Package. To view more details, please click on our All- Inclusive tab below.
In addition, The Grande Ritz Palm provides access to our property assistants, who are on call to assist you and your guests all week long. The Grande Ritz Palm has their very own 20+ person team that assists with the maintenance and cleaning for this home, in addition to the Brindley Beach Vacations staff.
The All-Inclusive Event Package is a great value and provides a worry-free wedding day.
Now booking 2019!!
Feature Video
Photo Galleries
Click each gallery to view more photos.
Fri. to Fri. Rental
For all Rental Inquiries, please call Stephanie at 252-441-0811 with any questions.
Call Exclusive Properties Today!
Pre-Book this Rental For 2016 and 2017! 252-441-0811
Best in Class
Voted the "Official Best Of Coastal Luxury Home Rentals in North Carolina"